Race Details – Polar Bear 5K
A 5,000 meter (5k) course through the gently sloping streets of Dillsburg, PA, over parts of the high school cross country course, through a tunnel, finishing at the high school stadium.
Walkers and runners of all ages and paces are welcome. Running strollers are welcome!
Race Day Registration Location
Northern Middle School
655 S Baltimore St
Dillsburg, PA 17019
The Polar Bear 5K is the same weekend as Dillsburg's Farmer's Fair, so please allow a little extra travel time in the morning.
Awards ceremony and prize raffle held promptly after the conclusion of the race.
Awards & Age Groups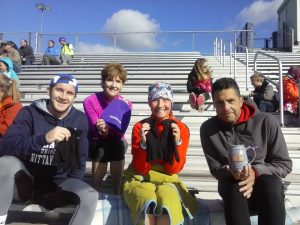 Overall Male & Female – Pottery crock
Masters Male & Female (over 40) – Pottery crock
First place finishers in each category receive a custom made stoneware cup suitable for display. 2nd & 3rd place finishers receive gloves and head bands.
Male & Female
14 & Under
15 – 19
20 – 29
30 – 39
40 – 49
50 – 59
60 – 69
70 & Over
The Course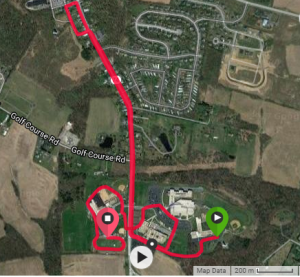 The race begins at Northern Elementary School (located behind Northern Middle School and Northern High School) and finishes on the track.
Start at Northern Elementary School (located behind Northern High School & Northern Middle School), head toward Baltimore Street (Route 74).
Turn right at traffic light on Baltimore Street heading toward Dillsburg Borough.
Left at Butler Street (this is a small change for 2019)
Right at Franklin Street
Right onto Baltimore Street, heading back to Northern Schools
Left at traffic light, turning in to Northern Middle School
Loop around Northern Middle School
Go through tunnel by tennis courts to other side of Baltimore Street
Right at exit of tunnel
Loop around Sports & Learning Center/Administration Building
Take gravel road to back entrance of track
Complete 1 lap on track to finish